Welcome
To Our Hoover Office
on Montgomery Highway

1598 Montgomery Highway
Hoover, AL 35216

HOURS OF OPERATION
MON: 8:00 a.m. – 5:00 p.m.
TUE: 8:00 a.m. – 5:00 p.m.
WED: 8:00 a.m. – 5:00 p.m.
THU: 8:00 a.m. – 5:00 p.m.
FRI: BY APPOINTMENT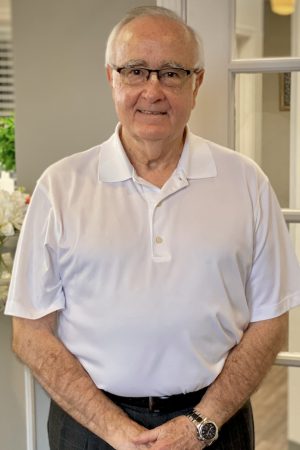 Dr. James Dobbs, better known as Jim, has been creating beautiful smiles for over 40 years. Dr. Dobbs was born and raised in Birmingham, Alabama, and has spent most of his career here. In his many years as a dentist, Dr. Dobbs has seized many opportunities to excel in his education, profession, and community.
Dr. Dobbs began his education at Auburn University in Auburn, AL, where he graduated with a Bachelor of Science degree. Afterwards, he returned home to study dentistry at the University of Alabama at Birmingham (U.A.B.), where he graduated as a D.M.D. in 1971. Dr. Dobbs then served as a dentist in the United States Air Force during the Vietnam War and was stationed in Blytheville, Arkansas and Thailand during his active duty. He subsequently worked as faculty at the U.A.B. School of Dentistry. Dr. Dobbs then started his own practice in Hoover in 1974.
Throughout his career, Dr. Dobbs has strived to stay active and involved in many dental organizations. He is a current member and also past President of the Birmingham District Dental Society. Additionally, he is a current member of the American Dental Association, the Alabama Dental Association, and the American Academy of Cosmetic Dentistry. Dr. Dobbs maintains all requirements and licenses mandated by the Alabama Board of Dental Examiners for dentists practicing in the state of Alabama.
Annually, Dr. Dobbs participates in several local charities as a way to give back to the community. Dr. Dobbs volunteers his time at the Cahaba Valley Health Care, where he does dental screenings for indigent patients. Dr. Dobbs continues to support local animal shelters in Birmingham, Pell City, Lake Martin and Shelby County. Dr. Dobbs additionally supports the U.A.B. School of Dentistry Alumni, The Foundry, The American Red Cross and other local school fundraisers and community projects both personally and professionally.
On weekends and in his free time, Dr. Dobbs enjoys spending time fishing and boating on Lake Martin. He and his wife, Billie Dobbs, have been married for 51 years (and counting!) and have two grown children, Mell and Carol. They enjoy spoiling their granddaughter Kennedy. Together they attend Hunter Street Baptist Church.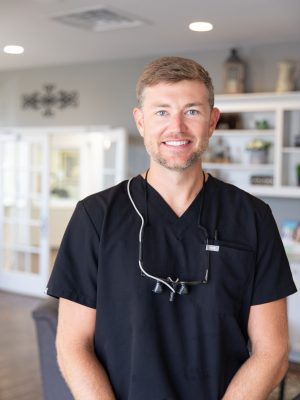 Dr. Michael MacWilliam obtained his Doctor of Dental Medicine degree from UAB School of Dentistry and his Bachelors in Science from the University of Alabama. Dr. MacWilliam was raised in Birmingham and continues to be active both personally and professionally in the community.
To further his education, Dr. MacWilliam attended an additional general practice residency in Bessemer, AL that focused on advanced restorative and surgical aspects of dentistry. This residency allowed him to help the underserved while managing complex restorative cases. Advanced education in Dental Implantology and grafting allows Dr. MacWilliam to discuss more treatment plan options with patients in order to achieve excellent results.
Dr. MacWilliam strives to provide the best and most current dental techniques and technology to patients, including the use of dental microscopes and laser technology. Oral appliances and at home sleep tests also allow him to treat and give more options to those patients with sleep apnea. Dr. MacWilliam has a passion for staying current in all aspects of dentistry and attends many continuing education events in order to provide the best care to patients.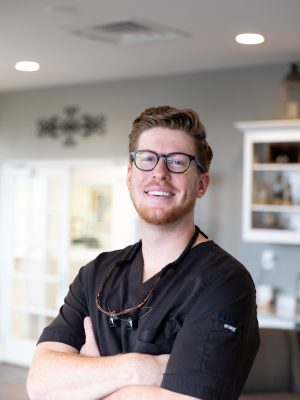 Dr. Kyle Jordan graduated with a Bachelor of Arts in Sciences with a Minor in Medical Missions in 2014. Upon graduation he was accepted into his first choice school at Midwestern Dental School in Illinois. He chose this school due to the unique opportunity to receive one-on-one training with all Dental Specialists in one of the most high-tech schools in the nation.
Dr. Jordan uses his Minor in Medical Missions by enjoying and leading trips to Guatemala and Honduras. The last time in Guatemala he spent around 1.5 months there for medical missions working with local dentists and physicians.
Click the button below to request an appointment with the professionals at StoneCreek Dental Care and take the first step toward a beautiful, healthy smile!