Welcome To
Cahaba Heights Dental Care

4005 Crosshaven Drive
Birmingham, AL 35243

HOURS OF OPERATION
MON: 7:30 a.m. – 5 p.m.
TUE: 7:30 a.m. – 5 p.m.
WED: 7:30 a.m. – 5 p.m.
THU: 7 a.m. – 5 p.m.
FRI: Closed for Seminars & Continuing Education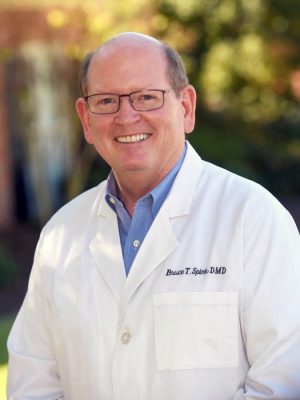 Dr. Bruce Spink graduated from Auburn University with a Bachelor of Science Degree in 1977. He then attended The University of Alabama School of Dentistry where he received his Doctor of Dental Medicine Degree in 1981. Dr. Spink has been serving patients in the Over the Mountain area in Birmingham for over 30 years. Hundreds of hours of continuing education each year keeps Dr. Spink among an elite class of dentists providing exceptional restorative and cosmetic dentistry. He is a member of the Birmingham District Dental Society, The Alabama Dental Association, The American Dental Association, and the American Academy of Cosmetic Dentistry.
Since 2009, Dr. Spink expanded his practice to include treatment of snoring and sleep apnea. Dr. Spink has attended seminars in cities all over the country, such as Seattle, Orlando, New York City, and Chicago, devoting countless hours of continuing education studying Oral Appliance Therapy for sleep disorders. Dr. Spink is now one of Alabama's leading advocates of sleep apnea treatment using Oral Appliance Therapy. He is currently the only dental sleep professional in Alabama to be qualified to administer the DNA appliance. Dr. Spink is a serving member of the American Academy of Dental Sleep Medicine.
Dr. Spink is married to his high school sweetheart, Laura, and has two daughters, Natalie and Meredith, five granddaughters, and two step-grandsons. When he is away from the office he enjoys photography, sports, and vacationing with friends and family.
Dr. Pritchett is a graduate of the University of Alabama where she earned a Bachelor of Science in Biology degree. She then attended the University of Alabama at Birmingham School of Dentistry and earned her Doctor of Dental Medicine degree. Upon completing dental school, she completed a General Practice Residency at UAB Hospital to broaden her knowledge and skills of general dentistry and surgical procedures.
In her spare time, Dr. Pritchett enjoys baking, Alabama sports, being outdoors, and vacationing with friends and family. She is excited to be a part of the Over the Mountain community and provide an array of general and cosmetic services to our patients!
Click the button below to request an appointment with the professionals at StoneCreek Dental Care and take the first step toward a beautiful, healthy smile!