Welcome To Our
Birmingham-Montclair Office

4616 Montevallo Road, Suite 200
Birmingham, AL 35210

HOURS OF OPERATION
MON: 8 a.m. – 5 p.m.
TUE: 8 a.m. – 5 p.m.
WED: 8 a.m. – 5 p.m.
THU: 8 a.m. – 5 p.m.
FRI: CLOSED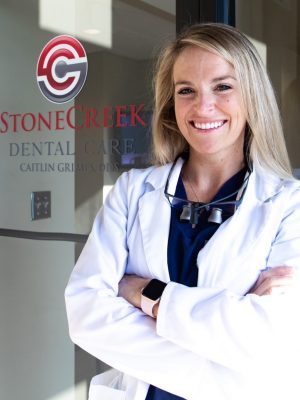 Dr. Caitlin Grimes is from the small town of Palmetto, Florida. She received her Bachelor of Science degree from the University of Florida and is an avid Gator fan.
She attended the University of Maryland School of Dentistry, where she earned her Doctor of Dental Surgery degree. She continued her dental education here in Birmingham at UAB Hospital Dentistry, completing her residency in Advanced Education in General Dentistry. While at UAB, she received additional training in complex medical conditions, oral surgery, dental implants and cosmetic dentistry.
Dr. Grimes enjoys being outdoors, catching a Gator football game, cooking and traveling.
Click the button below to request an appointment with the professionals at StoneCreek Dental Care and take the first step toward a beautiful, healthy smile!